UniMite Air
The even and efficient distribution of predatory mites
The conveyor belt in the 5 liter storage bunker means there is always an even release of material. This results in a uniform distribution of predatory mites and Power Food over the crop. As with the UniMite Disc, the bio-distribution system for chrysanthemum and other crops, the storage bunker is transparent so that the stock in the hopper is visible. The UniMite Air can be installed on a pipe rail system or on a monorail system.
Do you want to know more about the possibilities of the UniMite Air, or have any questions about the bio-distribution system? Please contact one of our specialists.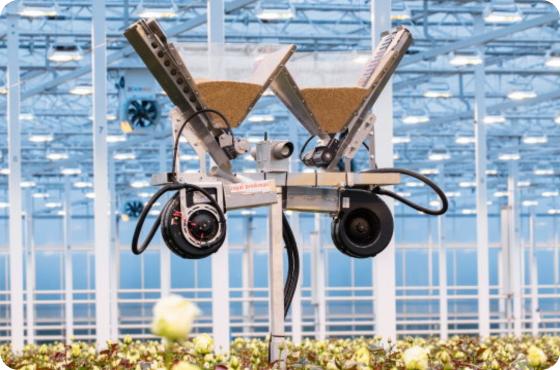 Unimite Air Helps Keep Things Under Control at SK Roses
"Since the end of 2019, we have been working with a biological approach; we scatter montdorensis predatory mites with Powerfood feeding mites. We didn't get enough thrips control control that first year, however. With Royal Brinkman's Bio spreader, thrips control is going well now. And we did not chemically correct against thrips in 2020 until week 36." Speaking is Bas Koene, rose grower in De Lier. "Thrips cause visible damage in roses to the flower bud. Spots appear on the petals, then the flower becomes damaged and is no longer A1 quality." Bas Koene says that their approach in the past did not work well to control thrips. In addition to the use of predatory mites, chemical controls were necessary. " Too often we had to correct with chemicals, and even that was insufficient. It also inhibited growth and we wanted to get rid of that."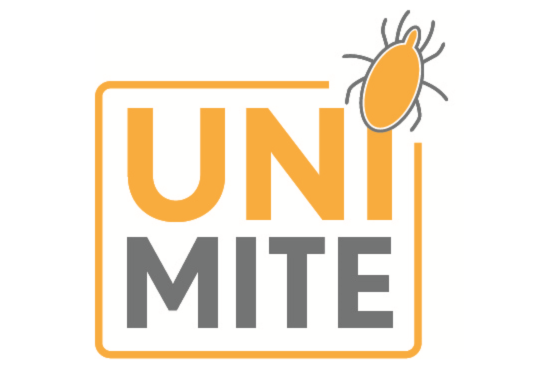 New: UniMite bio distribution systems for even more crops
Royal Brinkman has introduced the UniMite: A brand for the whole series of bio distribution systems. In this series of five bio distribution systems, we offer several technical variants of scattering or blowing systems that are optimal for the distribution of predatory mites and/or feeding mites. There is a compact solution for pot plants, a vertical solution for rose and cucumber, a horizontal solution for chrysanthemum, and behind the scenes work is being done on even more new UniMite solutions.
For optimal distribution of predatory mites and Powerfood feeding mites, Royal Brinkman has developed several bio-distribution systems. Spread bunkers, attached to a spraying robot or monorail system, have been available for a long time. But in rose-growing, for example, the goal was to be able to spread predatory mites evenly and lattice-wide.